Your Christmas decorations, including your indoor and outdoor Christmas decorations, should be chosen with care. A stunning and festive home will uplift everyone's spirits, so it's important to choose the right colours to make your home feel as festive as possible. After choosing the perfect Christmas tree, you are now trying to pick the right ornaments but you can't seem to decide on a colour or feel like the colours you've chosen won't work together. Don't fret!
At Elements Home and Garden, we know a thing or two about Christmas decorations. Actually, let's not sell ourselves short – our team are experts in decorating homes for Christmas and we even offer a professional Christmas decorating service for those who simply don't have free time or want professionals to transform their homes into a Christmas wonderland.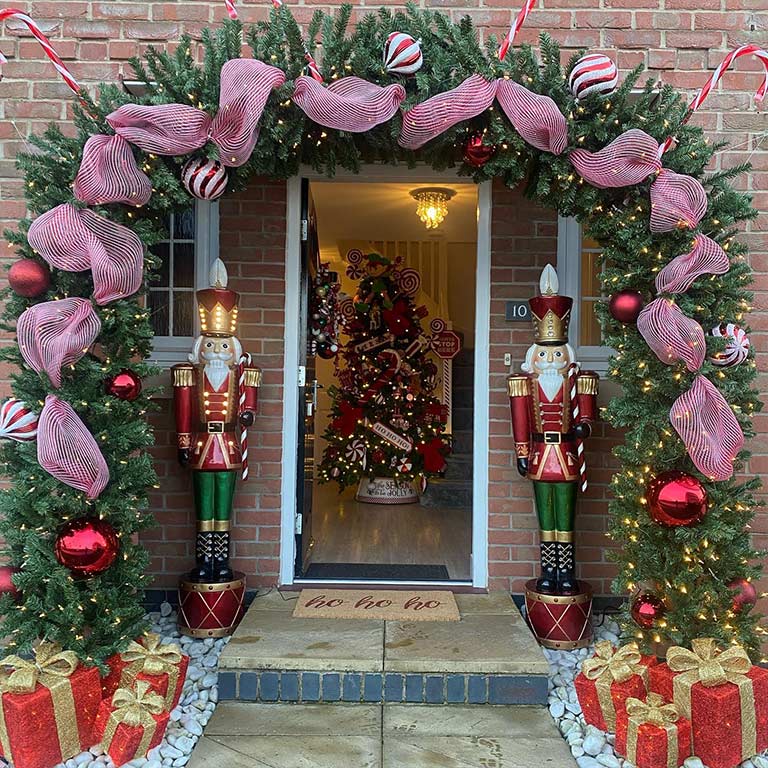 However, that's not what we are talking about today. Instead, we are going to give you tips on how to choose a colour scheme for your Christmas decorations. Plus, for some inspiration, we will share some photos of previous Christmas displays our team has put together.
Go for one colour and pair different tones.
The easiest way to achieve a colour-coordinated look is to base your ornaments and decorations around one colour scheme. Gold, silver, red and green are some of the most popular choices for Christmas decorations, however, almost any colour can create a fabulous Christmassy look. So, choose your favourite colour – pink, blue, orange, your choice – and then pick decorations in various hues of that colour. A good way to balance a monochrome theme is to add neutral coloured decorations, such as white and grey.
Rose gold Christmas tree decorations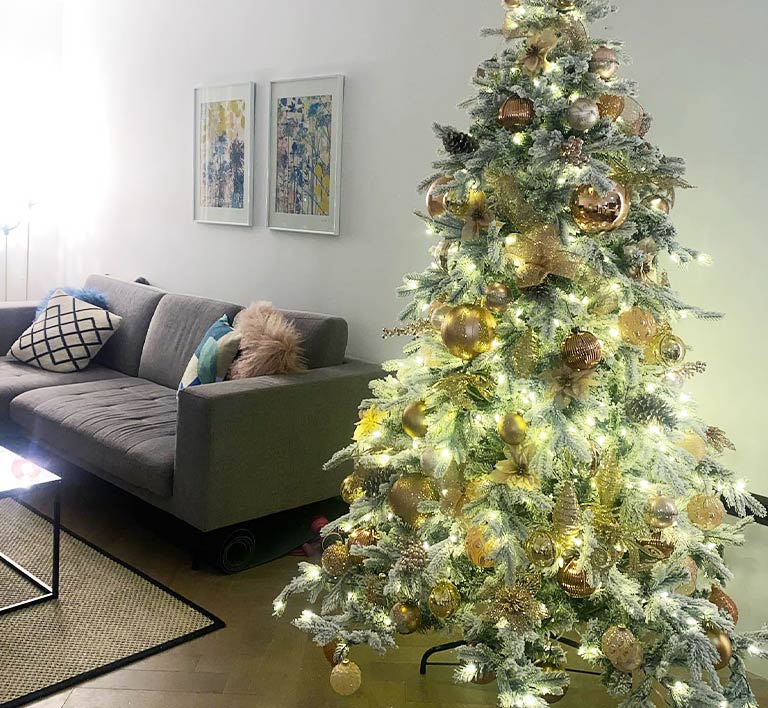 Our team at Elements Home & Garden is proud to showcase this lovely all-rose-gold Christmas tree we put together for Ashley Roberts, television personality and previous member of the Pussycat Dolls. We paired a variety of golden rose ornaments in different textures, finishes and sizes to create a perfectly balanced monochrome Christmas tree.
All-silver outdoor Christmas decorations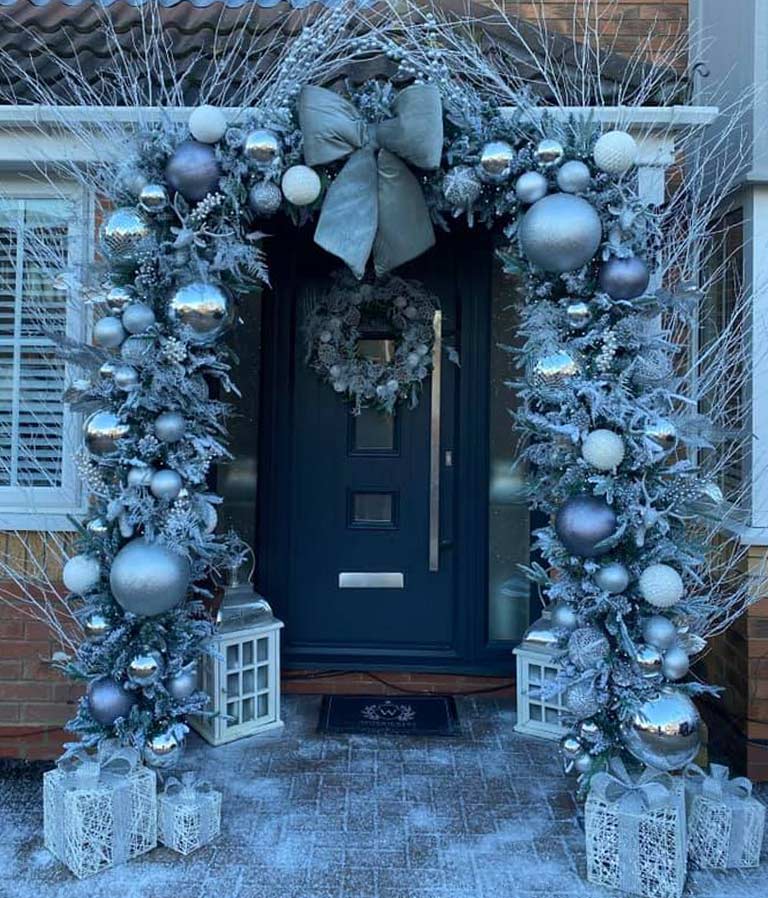 This modern silver Christmas outdoor display features a variety of silver Christmas decorations and some neutral white Christmas decorations. We paired matte silver Christmas decorations with glossy silver Christmas decorations, as well as a variety of white Christmas decorations, such as white Christmas presents, white Christmas baubles and white Christmas lanterns.
Red Christmas tree decorations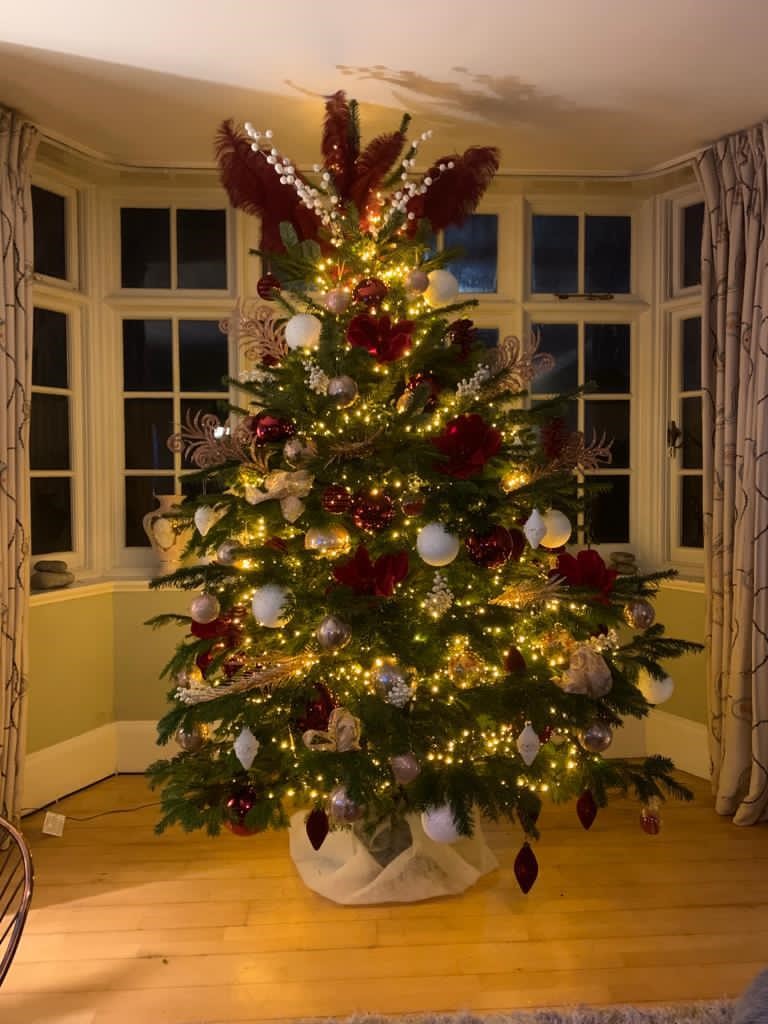 Red Christmas decorations will undeniably add the Christmas spirit into your home. This festive Christmas tree was decorated with deep red Christmas decorations, such as red Christmas baubles in different finishes and other red Christmas decorations, such as red Christmas feathers. Brassy tones and neutral colours can be used to complement this red colour scheme.
Go for a combination of colours.
If you are feeling brave and are ready to go out of your monochrome comfort zone, it's time to start combining colours. You can choose to follow the colour scheme of your home and select colours that compliment your current decor to bring out the seasonal feeling. Alternatively, go for completely different colours from your current decor to make your Christmas decorations stand out.
Top tip: choose colours of equal depth and intensity as these will work perfectly together. Deel jewel tones, for instance, such as navy blue, deep red and forest green, can easily combine with each other.
Red, green and golden outdoor Christmas decorations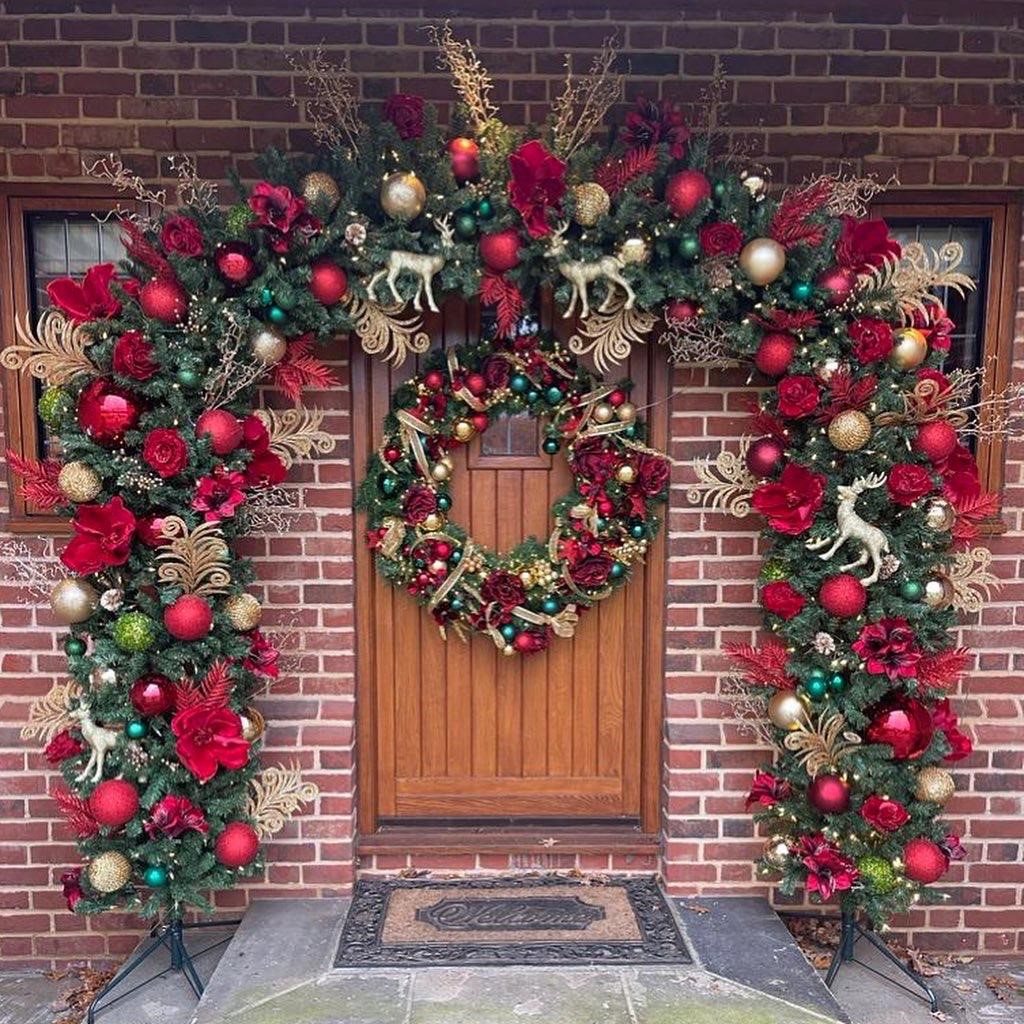 Red, green and gold tones have been the colours linked to Christmas for years, and you can't go wrong with this combo. This Christmas arch features a variety of red Christmas decorations, green Christmas decorations and gold Christmas decorations that work in harmony, perfectly framing this front door.
Silver and gold Christmas decorations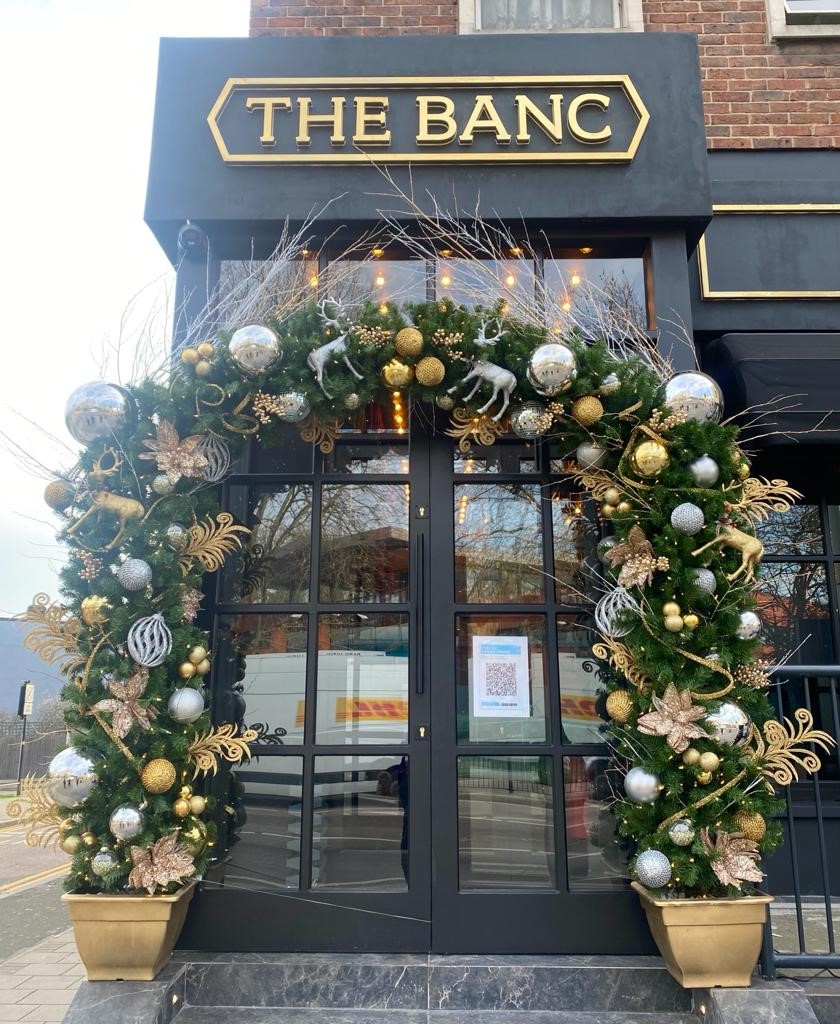 To many people, gold and silver work together as well as water and oil. However, we believe that gold Christmas decorations and silver Christmas decorations can complement each other beautifully. This gold and silver arch proves exactly that – how beautiful does it look?
Related: Front Door Christmas Decoration Ideas.
Blue and silver Christmas decorations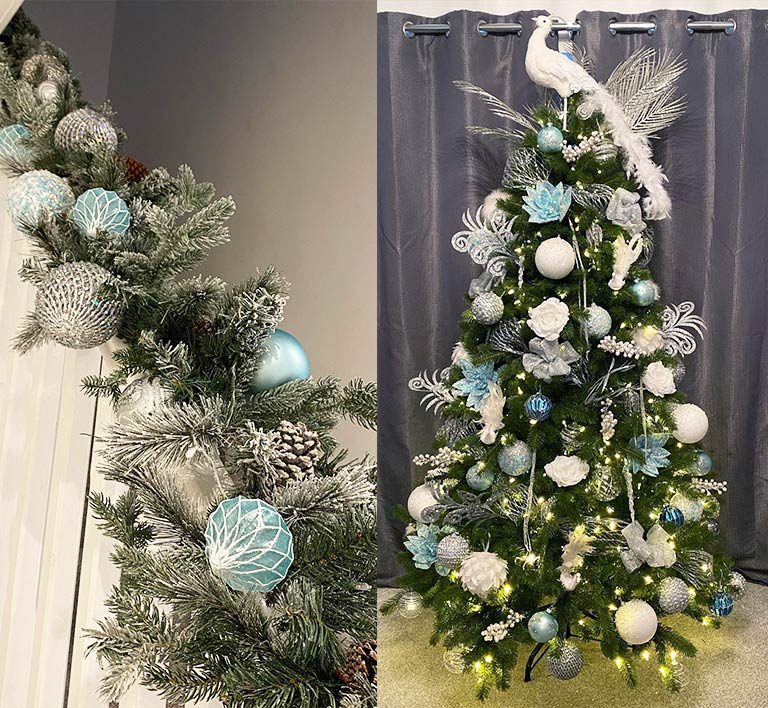 Our Christmas decorating team put together sleek and modern blue, white and silver Christmas decorations for Jacqueline Jossa, former I'm A Celebrity…Get Me Out of Here! champion. This included a Christmas tree, Christmas garland and outdoor Christmas decorations – all in blue hues and complemented with white Christmas decorations and silver Christmas decorations.
Go for a theme and work around the theme's colours.
If you are passionate about a certain topic, if you love a specific Christmas-related theme or if you simply adore a particular theme, play around with that theme's colours and hues to create unique Christmas decorations. Some themed Christmas decorations available at Elements Home & Garden include peacock Christmas decorations, woodland Christmas decorations, gingerbread man Christmas decorations and candy-cane Christmas decorations. Choose from in-stock themed Christmas decorations or if you want bespoke Christmas decorations, contact our team today.
Peacock Christmas decorations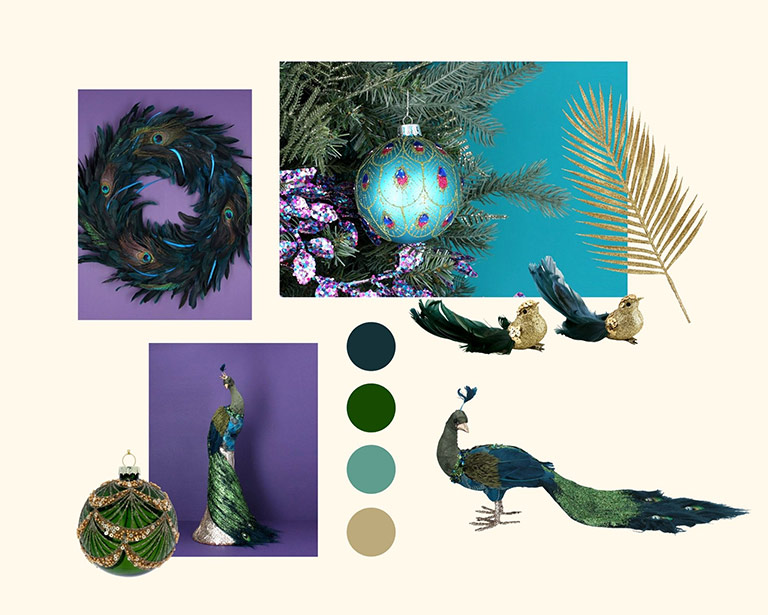 Get the look: Peacock Feather Wreath, Faux Fur Peacock Ornament, Green Glass Bauble with Gold Sequin Swags, Gold Glitter Palm Leaf Stem.
Peacock themed Christmas decorations are stunning, elegant and a great addition to any home. Our team decorated Amanda Holden's home, including her Christmas tree and Christmas garland with a peacock theme. We used deep blue Christmas decorations, bright blue Christmas decorations, gold Christmas decorations and peacock ornaments.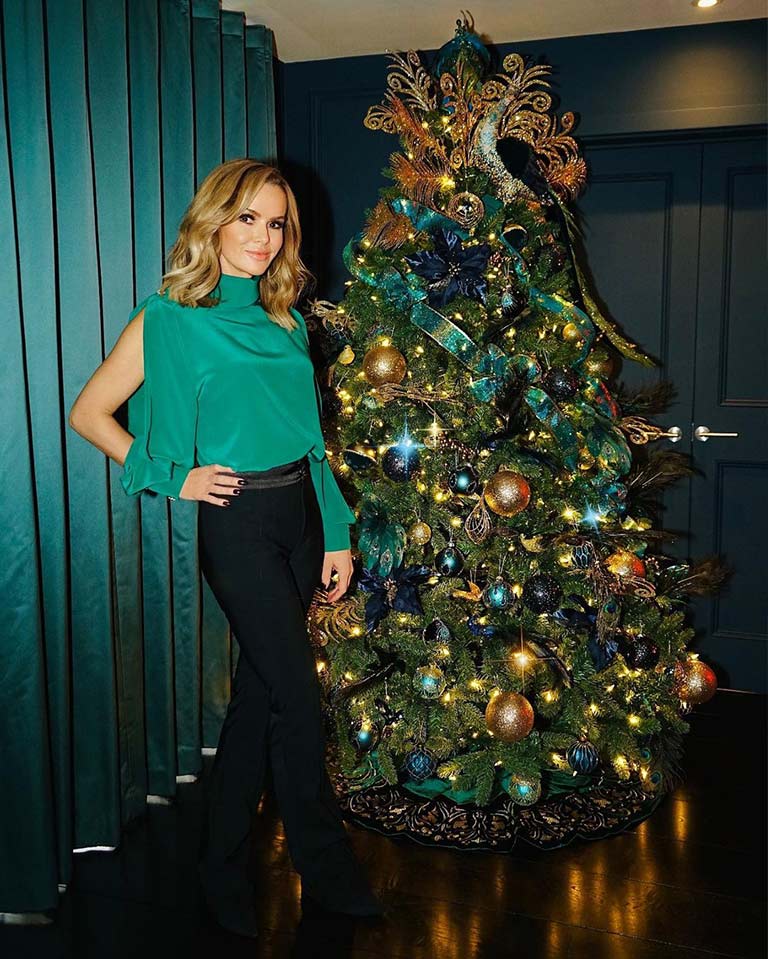 Related: Christmas Tree Decoration Ideas.
Gingerbread Christmas decorations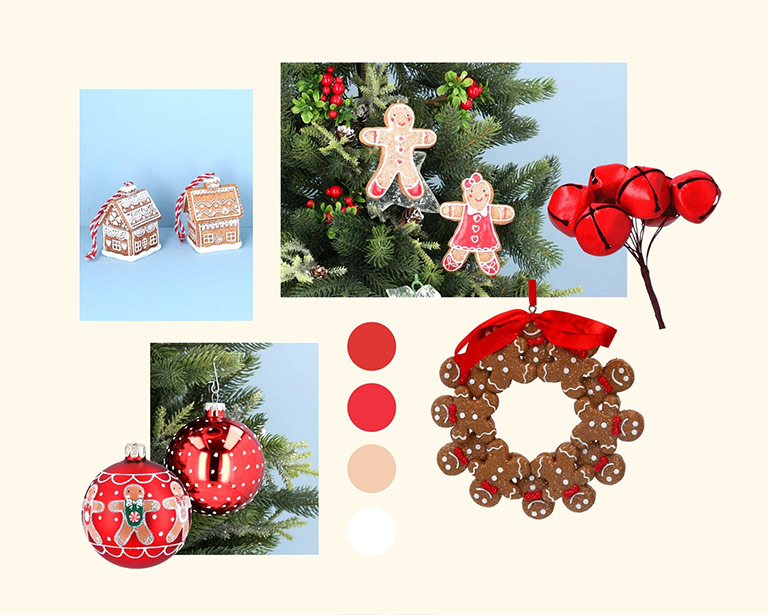 Get the look: Gingerbread Men Wreath, Matte Red Gingerbread Men Glass Bauble, Red and White Jingle Bell Bunch Pick, Resin Gingerbread Boy and Girl Ornaments, Resin Gingerbread House Ornament, Red with White Dots Bauble.
Can you think about Christmas without thinking of gingerbread man biscuits? This year, take the gingerbread out of the kitchen and decorate your home with themed gingerbread decorations. Mix gingerbread ornaments with red Christmas baubles, white Christmas baubles and beige ornaments to create beautifully gingerbread-themed decorations.
Candy-cane Christmas decorations.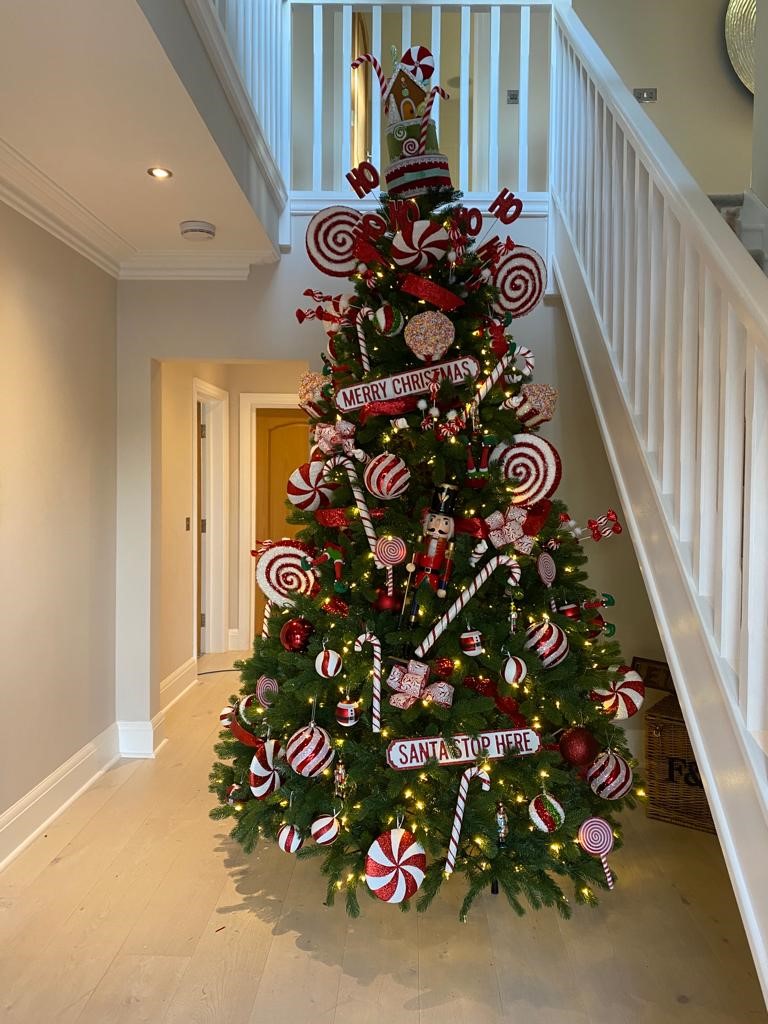 Red and white candy-cane themed decorations will never go out of fashion. Our team decorated this large candy-cane themed Christmas tree for Mark Wright and Michelle Keegan, and they couldn't have been happier with the result. If you want candy-cane themed Christmas decorations, go for white and red Christmas decorations.
Starlight Christmas decorations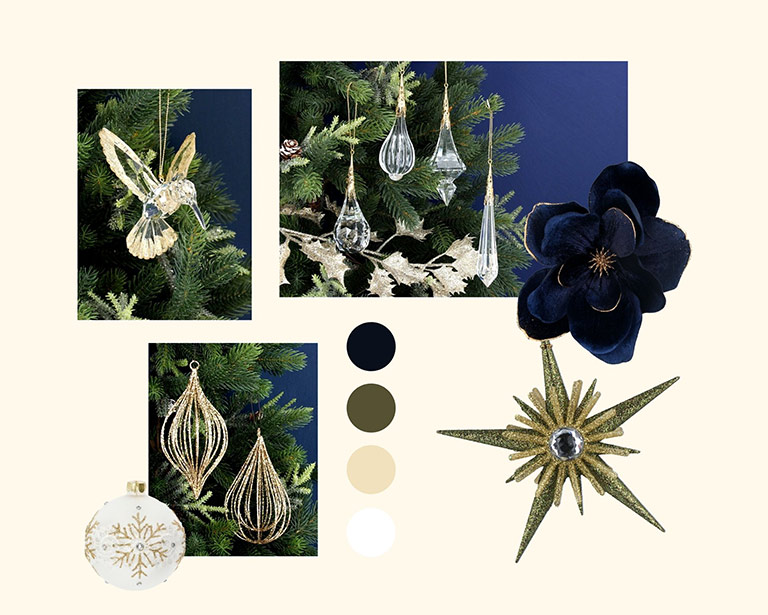 Get the look: Rainbow Acrylic Hummingbird Decoration, Crystal Tear Drops with Silver Top Decorations, Dark Blue and Gold Fabric Magnolia, Gold Glitter Wire Ogee Decoration, Green Glitter Star with Diamante.
Delicate, elegant and extravagant Starlight themed Christmas decorations will be ideal for those looking for opulent Christmas decorations. These lavish Christmas decorations will work together perfectly to create a luxurious Christmas tree.