Can you hear the sleigh bells ringing? Christmas is quickly approaching and we couldn't be happier. 'Tis the season for mulled wine, cosy garments and fabulous Christmas decorations all around. There is something special about Christmas decorations that uplifts everyone's mood and puts a smile on anyone's face.
This is one of the reasons we love to decorate homes for Christmas – to spread some joy while you can put your feet up and relax with your loved ones. Over the years, we have done some stunning Christmas displays (yes, we might be a bit biased but we have never had an unhappy customer, so that speaks for itself!) inside and outside houses all across the country.
Today, we thought it would be a good idea to look back at some of our previous Christmas tree decorating work and share some of our favourites with you. Whether you are looking for Christmas tree decoration ideas or want to see what we can offer you as professional Christmas tree decorators, today is your lucky day!
Also, if you want to book our Christmas decorating services – bookings for Christmas 2021 are now open!  We offer Christmas garland decoration, Christmas tree decoration services, Christmas arches decoration, tabletop Christmas decorations and much more. Contact our team today to find out how we can turn your home into a Christmas wonderland!
Red and white candy-cane themed Christmas tree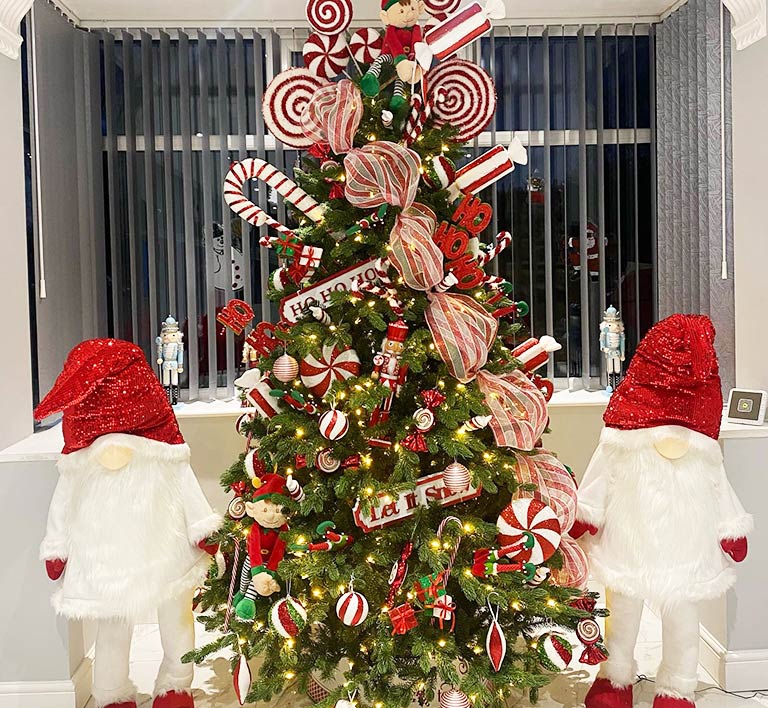 Want to go for a traditional colour theme? Red and white it is. We put together this extravagant candy-cane Christmas tree and we couldn't be happier with the result. The tree was filled with candy-cane decorations and other red and white Christmas decorations, including nutcrackers, presents and elf dolls.
Amanda Holden's gold and blue peacock themed Christmas tree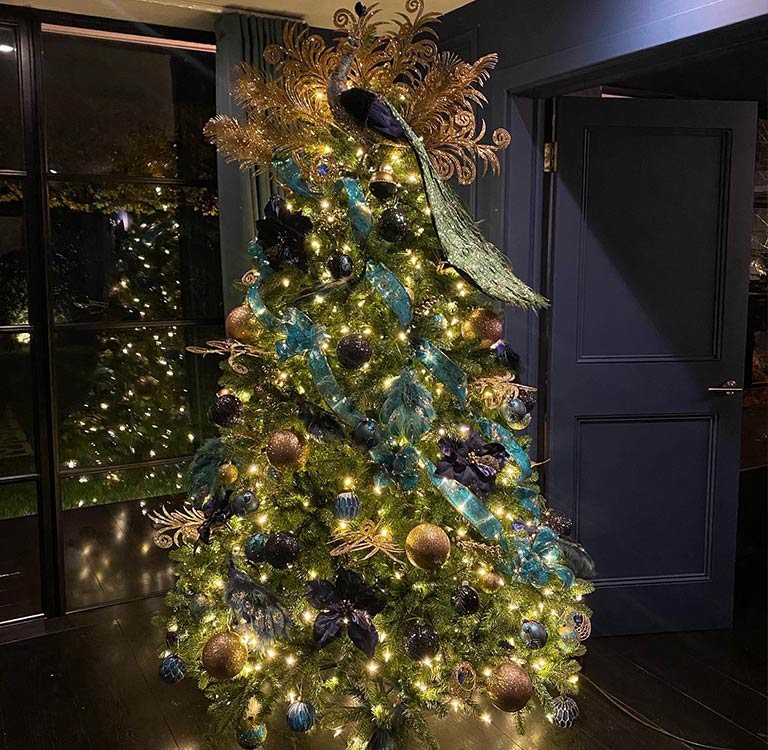 Amanda Holden opted for peacock themed Christmas decorations to match her home's aesthetics. Our professional Christmas decorators added peacock-themed baubles, blue peacock-themed ribbons, dark blue and golden baubles, and a variety of other golden and navy blue accessories. Plus, a fabulous over-the-top peacock topper.
All-gold Christmas tree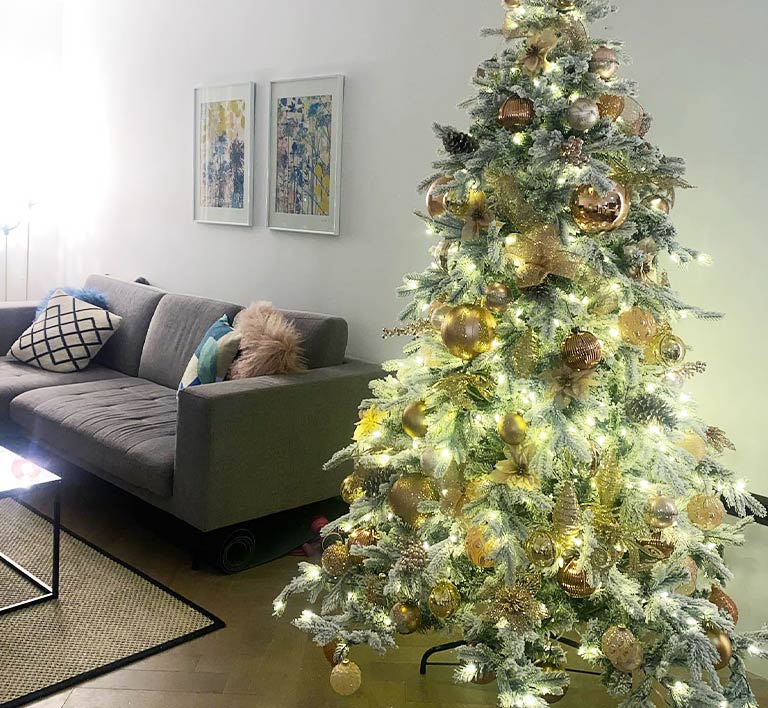 A luxurious and ever-so-fabulous all-gold Christmas tree that we decorated last year for a lovely customer. To this tree, we added gold baubles in various sizes and finishes, gold pinecones, gold ribbons and other gold accessories.
Jacqueline Jossa's white and blue Christmas tree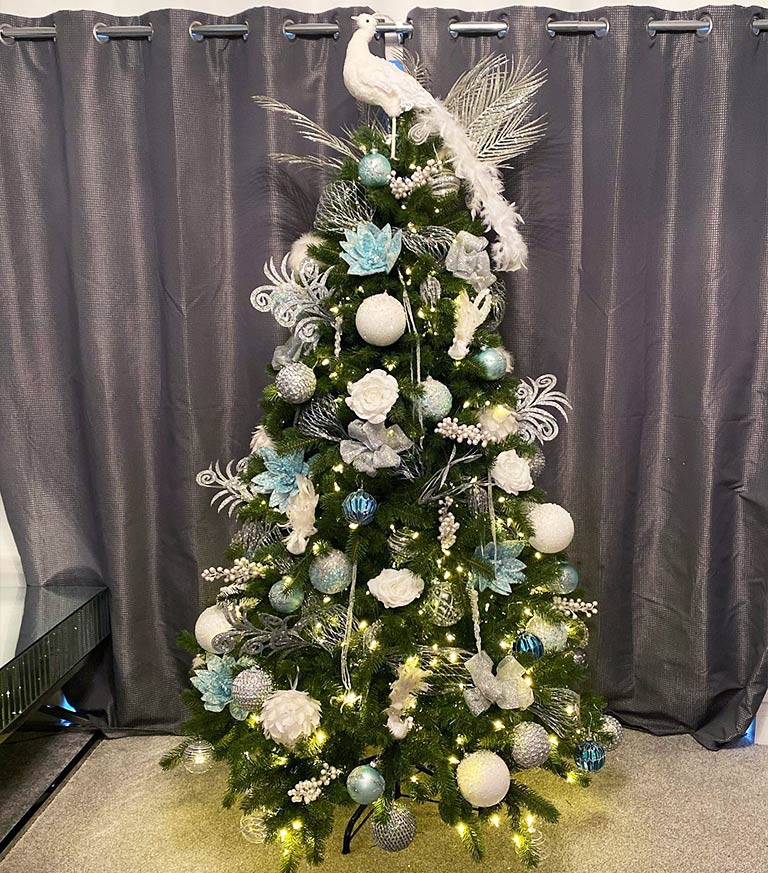 For Jacqueline Jossa, former I'm A Celebrity…Get Me Out of Here! champion, we put together a modern white and blue peacock themed Christmas tree. To her Christmas tree, we added white, silver and blue details, such as baubles, ribbons and flowers plus, topped the tree with a glorious white peacock.
Red and white Christmas tree
Red and white Christmas trees are unsurprisingly a popular choice and many of our customers adore this colour scheme (we do too!). Guarding this fabulous Christmas tree is one of our best-sellers, a Life-Size Christmas Nutcracker.
Silver and white Christmas tree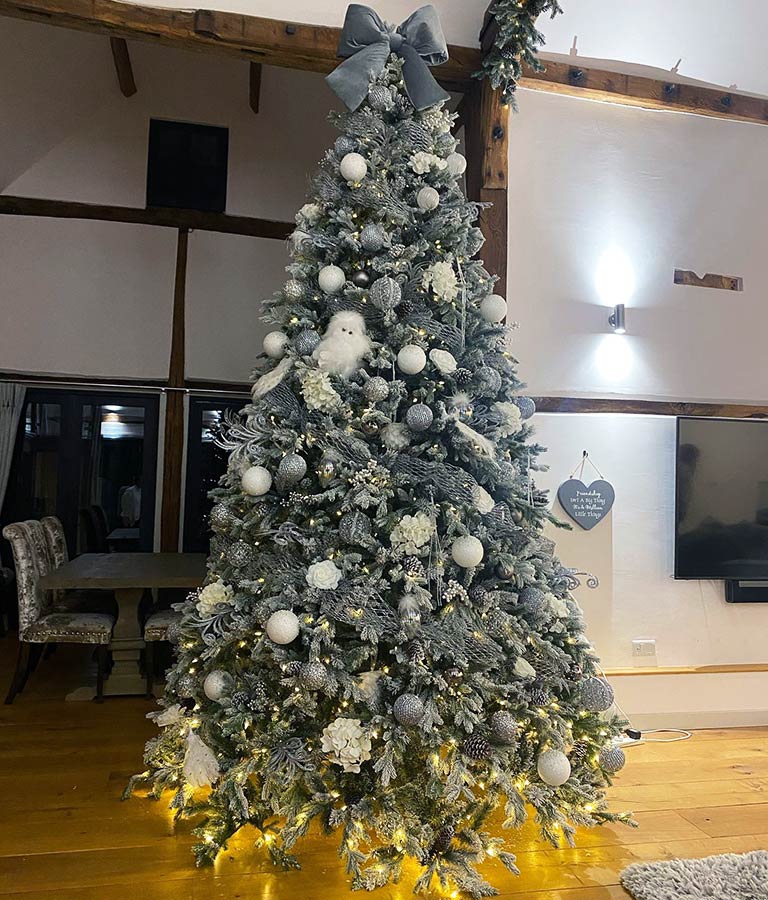 When we think about a Christmas wonderland white and silver tones come to mind, something that we thought about when creating this gorgeous tree. This giant Christmas tree was decorated with silver baubles, white baubles, silver pine cones, silver ribbons, white accessories and a lovely big silver ribbon to top it off.
Michelle Keegan and Mark Wright's Christmas decorations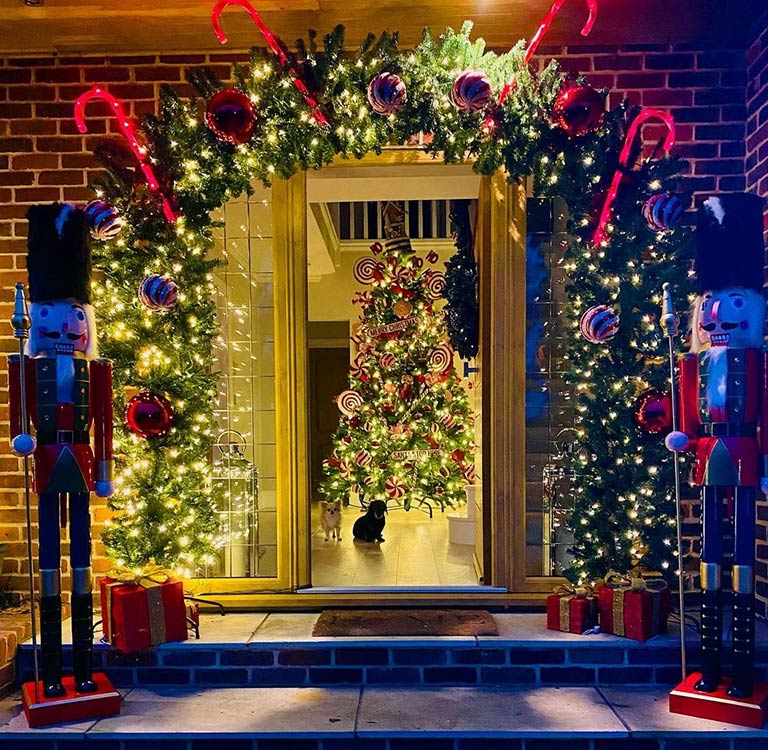 Michelle Keegan and Mark Wright opted for a candy-cane theme inside and outside their home. Our professional decorators created a Christmas arch framing their entrance with life-size nutcracker figures guarding the front door and added some light-up presents as a special touch. Inside their home, our team decorated the Christmas tree and staircase garland with candy-cane baubles and other red and white accessories.
Want some help with your 2021 Christmas decorations? Contact our team today and book our Christmas decorating services. Make the most out of this wonderful time of the year by letting us take over the decorations. Call us on 01279 755294 or email us at [email protected].