Kamado Joe was launched around 2009 and, since then, has been growing in popularity worldwide. This brand focuses on creating kamado grills, a ceramic egg-shaped barbecue of Japanese origin. With this type of barbecue, you can do much more than grilling, you can smoke, bake and sear your food with it.
Not only do kamado grills get up to temperature quickly but these barbecues also maintain a steady temperature easily. Plus, these are designed to last a long time. So, if you are looking for a high-quality barbecue that is versatile, low-maintenance and long-lasting, Kamado Joe might be just the right choice for you.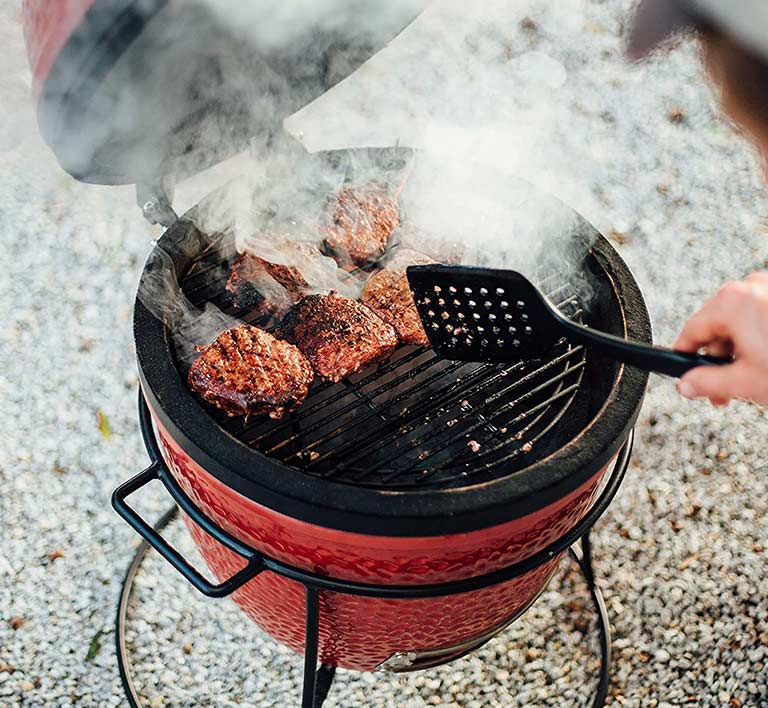 A unique cooking method.
Kamado Joe barbecues are not like your average BBQ. These modern barbecues feature a 2-tier Divide & Conquer® Flexible Cooking System – a multi-level design that allows you to cook foods in different styles and at different temperatures, at the exact same time.
Complete with accessories.
These modern barbecues come with all the necessary accessories you will need to grill, smoke, sear and bake. No need to buy all the accessories you need separately anymore.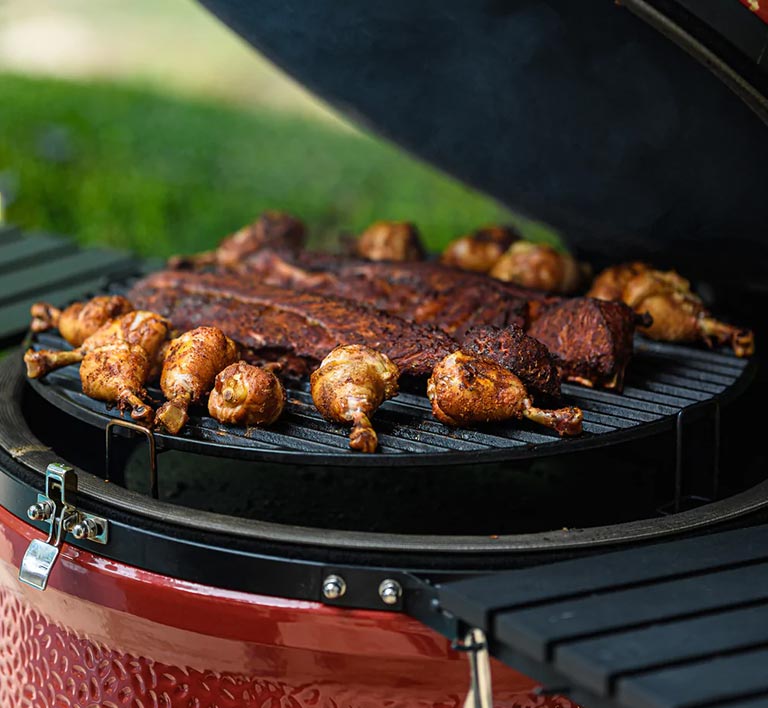 Grill even when it's raining.
Ever craved barbecued meats but it was raining outside? Grab your raincoat and grill your favourite meats, fish (or fruit… no judging here!) in your Kamado Joe. This barbecue features a vent at the top that allows for a consistent flow of air and, due to its position, rain will not be able to get in the grill.
Types of Kamado Joe grills.
Kamado Joe Classic II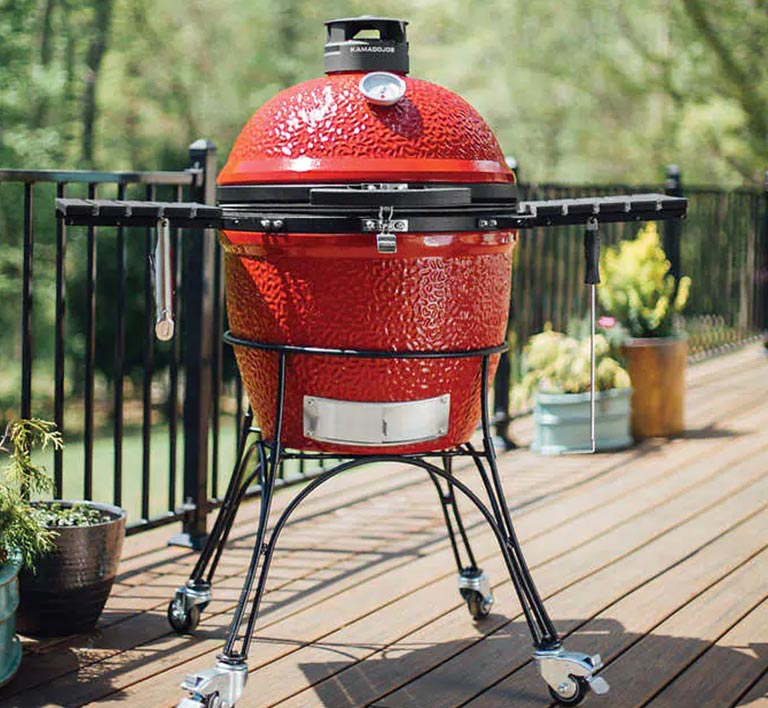 The Kamado Joe Classic 2 is one of their most popular ceramic grills for grilling and smoking. This barbecue features an adjustable 46cm cooking surface and a Kontrol Tower Top Vent that maintains precise airflow for consistent temperatures.
Kamado Joe Classic III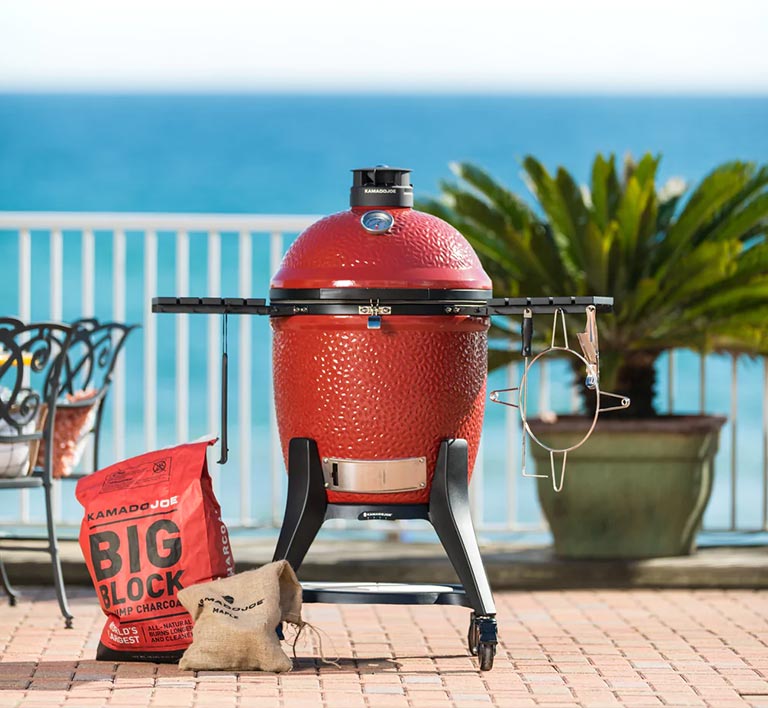 The Kamado Joe Classic 3 is the most innovative and performance-driven ceramic grill offered by Kamado Joe. This barbecue includes a heavy-duty powder-coated steel grill car and a 3-tier Divide & Conquer® Flexible Cooking System. Plus, it also features the SlōRoller™ Hyperbolic Smoke Chamber which can easily turn your grill into a smoker.
Kettle Joe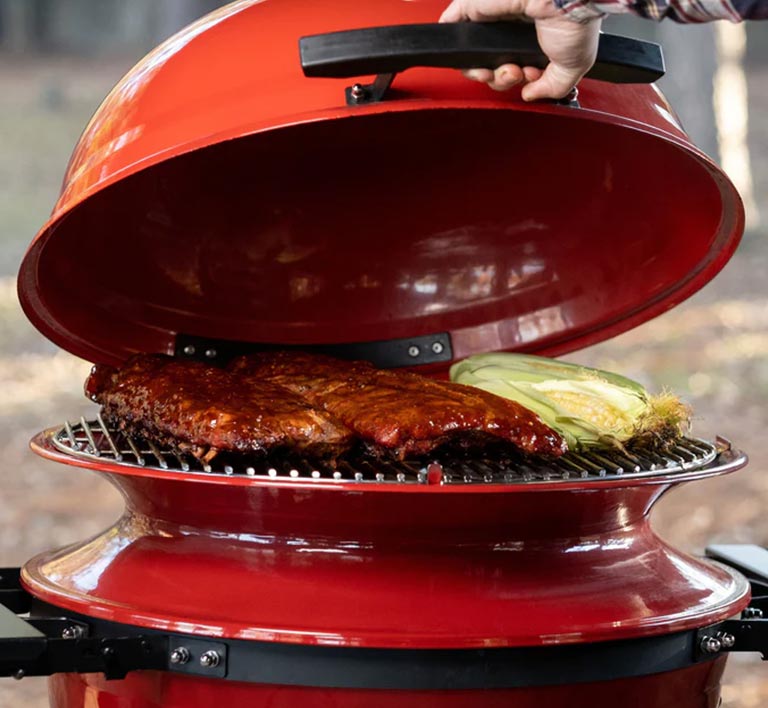 The Kamado Kettle Joe is the best of both worlds – it offers unique cooking qualities that improve fuel efficiency, heat retention and smoking ability. It comes with the 2-tier Divide & Conquer® Flexible Cooking System as well as the SlōRoller™ Hyperbolic Smoke Chamber insert.
Joe Junior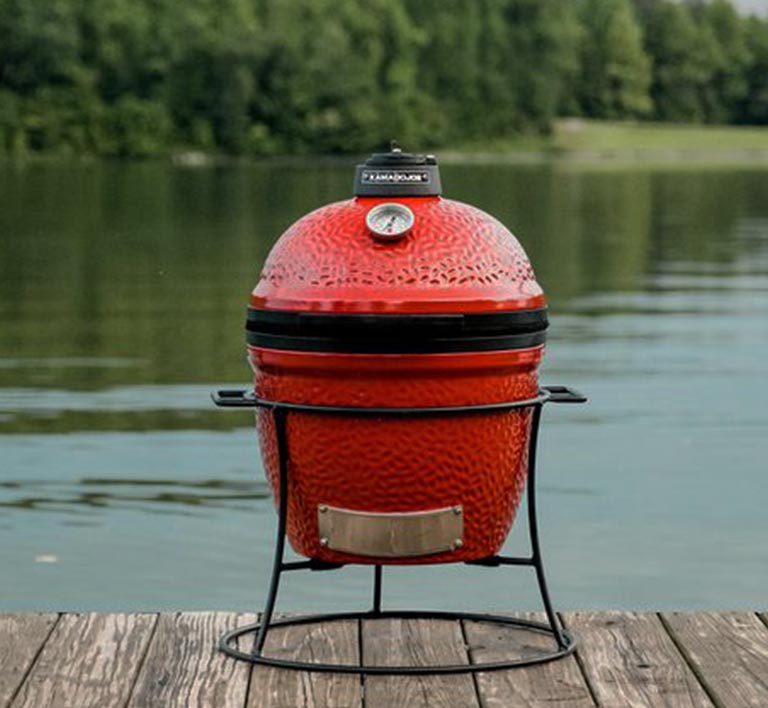 The Kamado Joe Junior is a portable version of their popular ceramic grill. With a 34cm surface of cooking space and a weight of 31kg, you can easily take your Kamado grill to your next camping trip.