If we could have al fresco meals every day, we would. Breakfast, lunch and dinner. Eating outdoors is a whole different experience – it's relaxing, boosts your mood and helps you enjoy your food more. Whether you are by yourself and enjoying breakfast al fresco to start the day off the right way or you are having your friends over for a lovely al fresco Sunday lunch, you will need the right outdoor dining furniture. Furniture that is not only comfortable but that will also make your patio stand out and impress guests. If you are looking for brand-new outdoor dining sets and need some inspiration, we have put together some of our favourites below.
Oxford 6 Seat Oval Fire Pit Dining Set with Heritage Chairs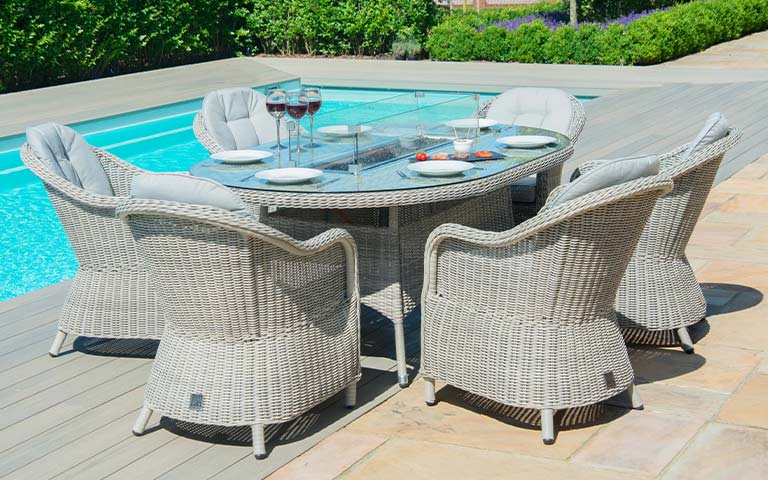 This stunning Oxford Outdoor Dining Set is the perfect addition to your patio, terrace or garden. It includes everything you need to guarantee a good time with your friends and family – six comfortable heritage dining chairs and a sturdy oval table topped with toughened glass that features an integrated gas fire pit system, allowing you to enjoy your outdoor living even during colder summer nights.
Ascot Deluxe Corner Dining Set with Rising Table and Ice Bucket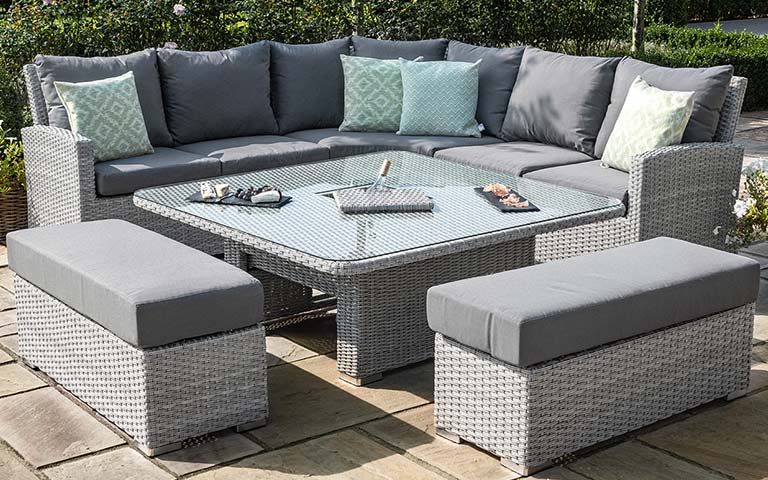 The Ascot Deluxe Corner Dining Set is the statement piece you didn't know you needed. This luxurious outdoor dining set features a versatile square rising table with an integrated ice bucket that can quickly and easily go from an afternoon coffee table to an evening dining table. This set also includes two large footstools that can be used as extra seating or as the perfect place to rest your feet when lounging.
Oxford Corner Dining Set with Ice Bucket and Rising Table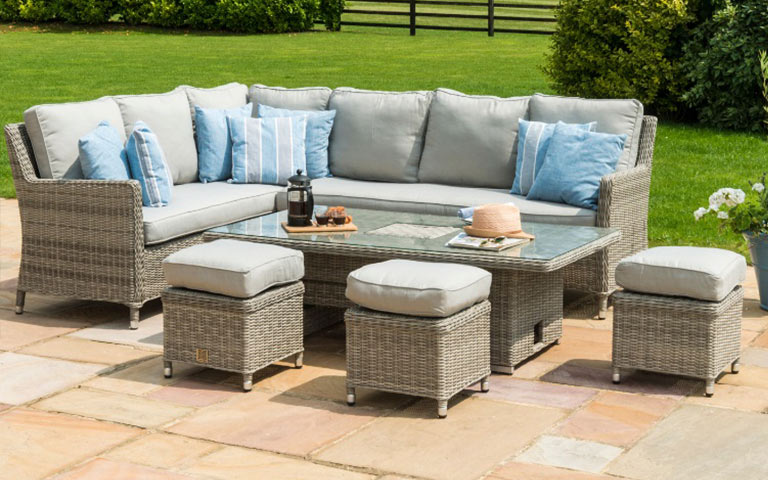 Make the most out of your garden with the Oxford Corner Dining Set. With comfortable seating, a rising table and an integrated ice bucket, this outdoor dining set allows you to experience outdoor living like you never had before. It provides the perfect lounging space and dining space to enjoy any meal of the day or simply to relax outdoors. Create great memories with your friends and family over breakfast, lunch and dinner in this outdoor dining set.
At Elements Home & Garden, we stock a variety of other outdoor furniture to uplift your garden space and allow you to enjoy your outdoor area to the maximum. Browse our collection of outdoor dining sets, outdoor corner sets and outdoor bar sets today. For any inquiries, feel free to contact our friendly team on 01279 755294.