Ready to start adding a festive feel to your home? No, it isn't too early. After the strange months we have all been through, there is nothing stopping us from beginning the joyful Christmas season a bit earlier. Or, at least, transforming our homes into a Christmas wonderland as early as we feel like it. We deserve it. You deserve it.
Decorating for Christmas earlier makes you happy
Did you know that putting Christmas decorations up earlier makes you happier too? Decorating for Christmas or simply looking at colourful and bright Christmas decorations can lift your mood. Steve McKeown, psychoanalyst, told Unilad: "In a world full of stress and anxiety people like to associate to things that make them happy and Christmas decorations evoke those strong feelings of the childhood. Decorations are simply an anchor or pathway to those old childhood magical emotions of excitement. So putting up those Christmas decorations early extend the excitement!"
So, if you think it's too early to start decorating for Christmas, think again. The right time to start decorating is now. And, as we say here at Elements Home & Garden, "Go big, go better!". Make this year's Christmas decorations as grand and luxurious as you wish and transform your home into the Christmassy home of your dreams! If you need a helping hand, we offer professional Christmas decorating services.
Take the hassle out of Christmas decorating
Whether you have a busy schedule and you don't have enough time to make your home look the way you want it to or want the help of professionals to take care of the Christmas decorations for you, so you can spend more time with your family – we can help. Our Christmas decorators can decorate your home from the front entrance to the attic. Book our Christmas decorating services today by calling 01279 755294 or emailing [email protected].
To showcase some of our previous Christmas decorating displays and to give you some inspiration for your own front door Christmas decorations, we have put together some of our stunning Christmas front door makeovers!
Glittering silver and baby blue Christmas arch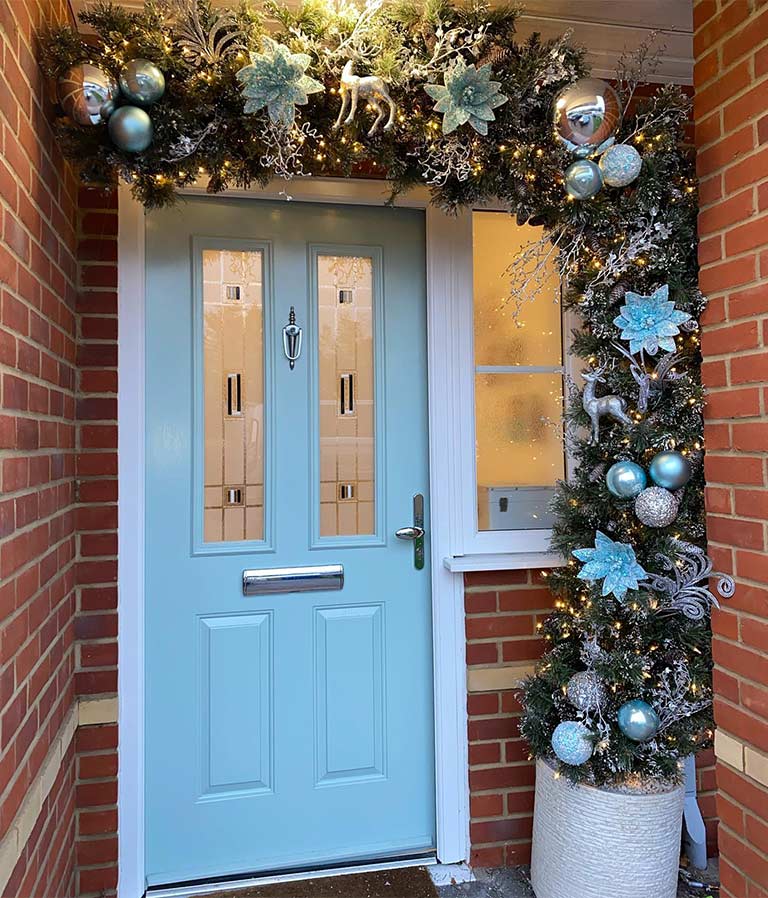 We are proud to have decorated Jacqueline Jossa's home last Christmas. For the former I'm A Celebrity…Get Me Out of Here! champion, our decorators put together a gorgeous Christmas arch with silver and blue details framing her entrance door. Our professional decorators also decorated her Christmas tree with similar colour ornaments.
Related: Christmas Tree Decoration Ideas.
Timeless Silver and Gold Christmas arch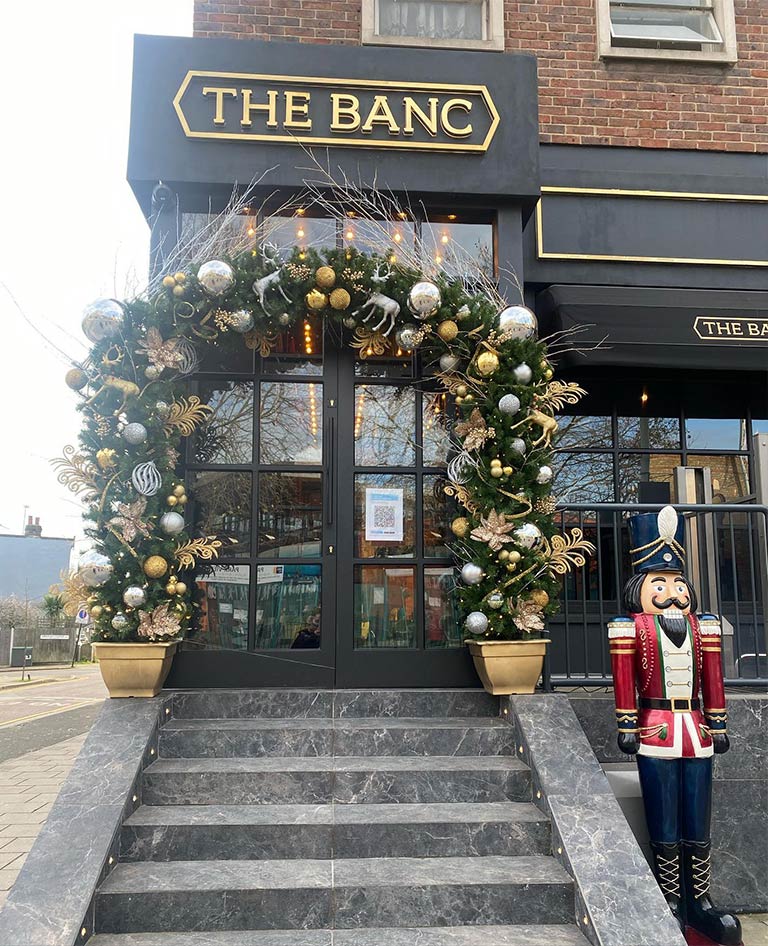 For this glamorous and stylish restaurant, our team put together an equally glamorous Christmas entrance to welcome their guests and customers. Gold and silver ornaments work together beautifully to perfectly frame the entrance of The Banc, London.
Traditional Red, Green and Gold Christmas Arch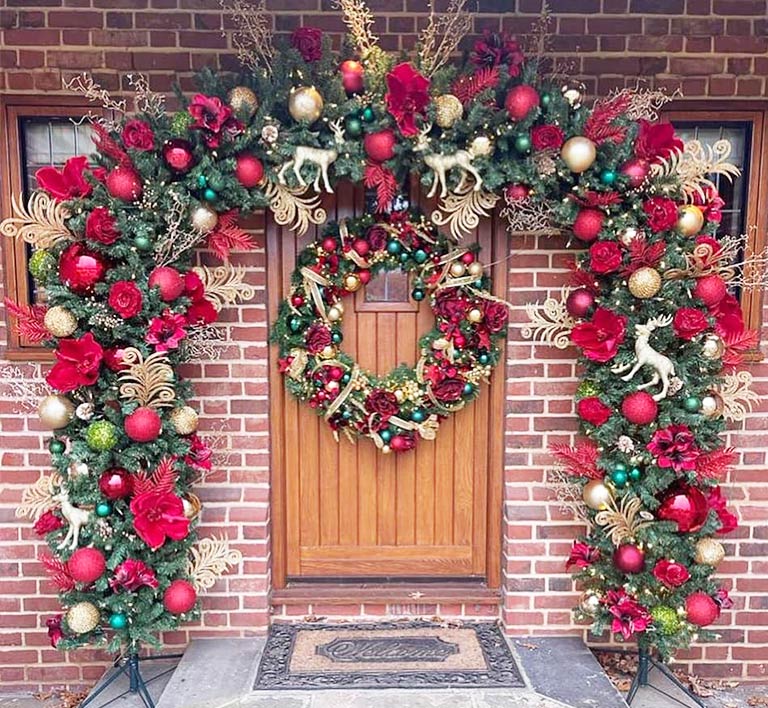 Take the Christmas colours outside and make your front door stand out with stunning red, green and gold Christmas arch accompanied by a Christmas wreath. These Christmas decorations feature red baubles, light green baubles, deep green baubles, gold baubles and a variety of elegant Christmas ornaments, including gold reindeer and red flowers.
Modern silver, blue and white Christmas arch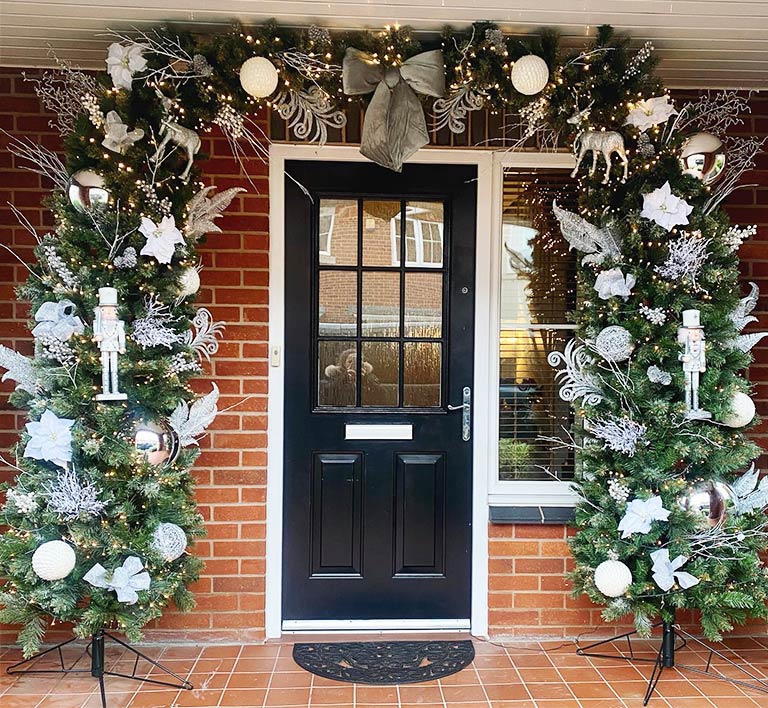 This modern Christmas arch with silver, baby blue and white ornaments frames any entrance door beautifully. This winter wonderland arch is filled with silver baubles, white baubles, baby blue ribbon, glittering silver leaves, nutcrackers and many other Christmassy ornaments.
Candy-cane themed Christmas decorations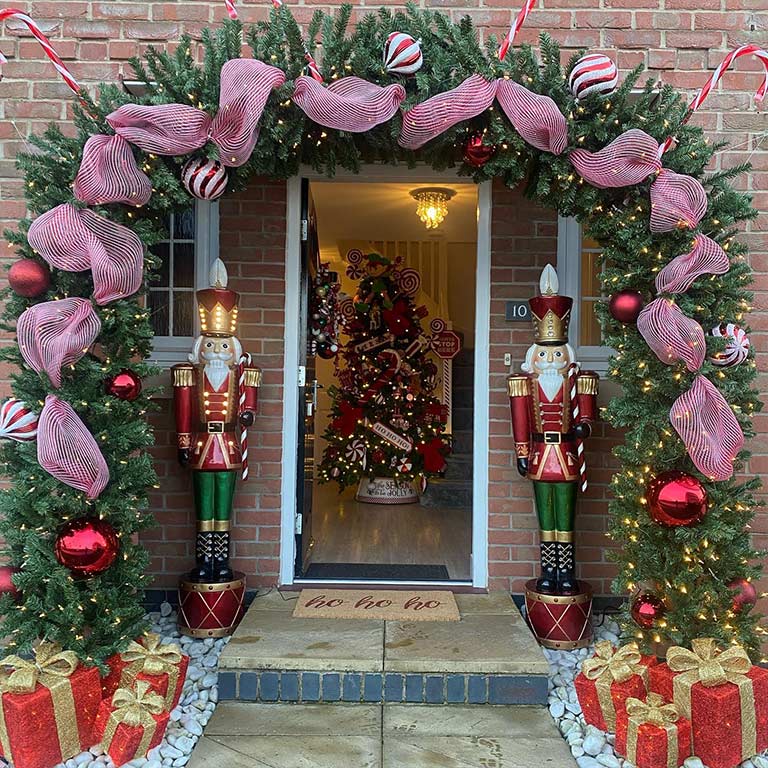 A complete Christmas makeover inside and out. For this home, our professional decorators followed a candy-cane theme. For the entrance, we added a large Christmas arch with candy-cane ornaments, red and white ribbon and different sized baubles. We also added light up presents, lifesize nutcracker figures and a beautiful Christmas wreath. Inside the home, our team designed and decorated a large candy-cane themed Christmas tree.
Elegant silver and white Christmas front door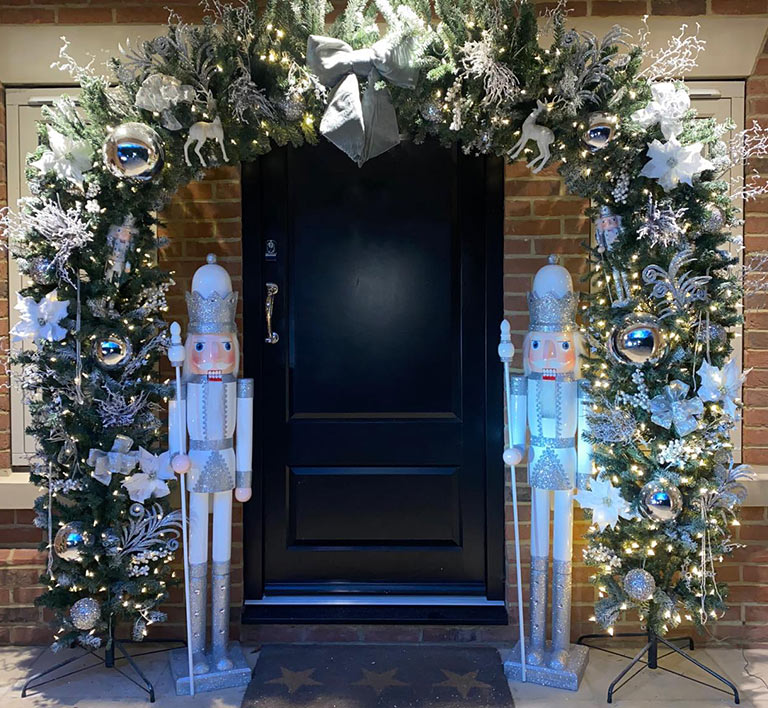 For this home, our team put together a gorgeous Christmas arch filled with white and silver ornaments; and topped with a large silver ribbon. We also added two lifesize nutcracker figures on either side of the door guarding the entrance and welcoming guests.