Whether you've been dreaming about having high tea in a luxurious hotel or simply miss going out with your family for a nice afternoon tea – why not throw your own tea party at home? Get your best china out of the cupboards, turn the kettle on and it's time to host the perfect afternoon tea.
Get comfortable seating.
Afternoon tea can't be enjoyed if you are sitting down on uncomfortable, worn-out chairs. If your garden furniture has been out all winter, is rusting and could really use an upgrade, do it. Upgrading your garden chairs and furniture will not only make sure your guests are comfortable but will also guarantee you spend more time in your outdoor space.
At Elements Home & Garden, we supply a variety of high-quality outdoor furniture, including outdoor dining tables which will be perfect to seat your afternoon tea guests. The Timor 280 Outdoor Dining Table and the Extending Brown Kingston Corner Dining Set are great options to seat all your visitors in style.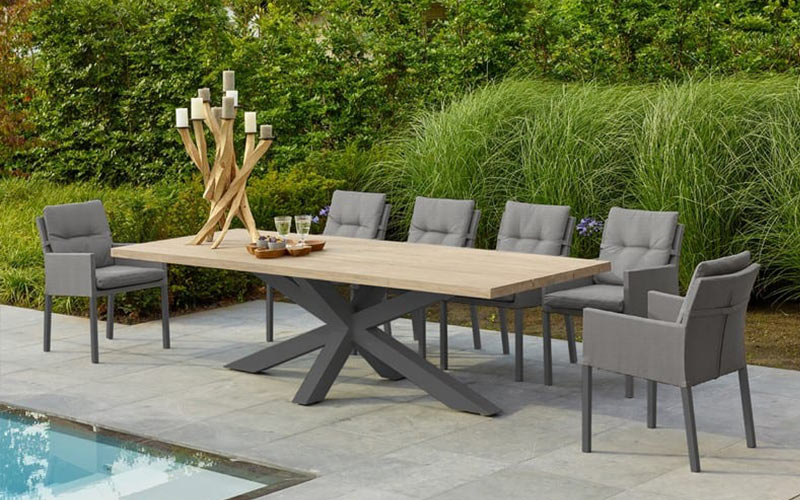 Round dining tables are also a fantastic option and will save space. Imagine your garden or patio with the Ascot Round Sofa Dining Set with Rising Table or the LA 8 Seat Round Ice Bucket Dining Table Set with Lazy Susan Table – wouldn't it look stunning?
Make a delicious menu.
One of the most important parts of an afternoon tea is the food, we can't deny that. We suggest setting out some common tea options but also some unique flavours that you love, so you can introduce your guests to some new teas. Pair tea with finger sandwiches and some pastries – don't forget the warm scones with cream and jam!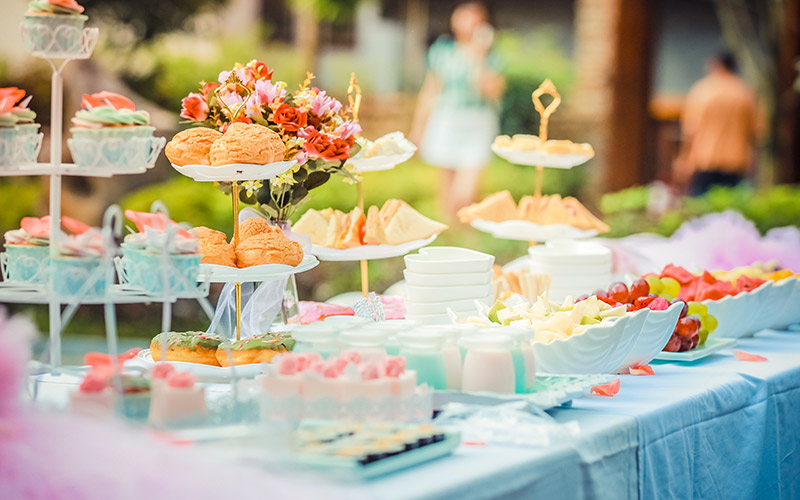 Be prepared for the rain.
Even if the weather forecast says otherwise, always be prepared for the rain. It's England, after all. Plus, as going indoors is out of the question due to the restrictions in place, your outdoor space is the only place where you will be able to spend time with people outside your household.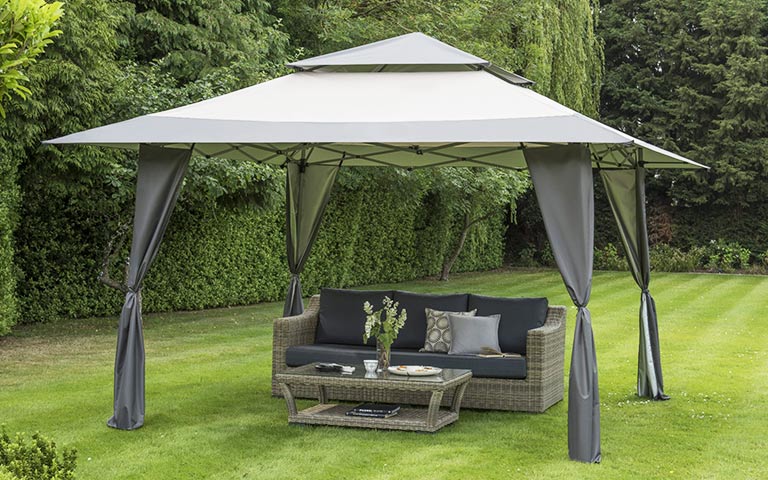 The Got It Covered Pop Up Grey Gazebo is the perfect shading solution to keep everyone covered from the sun or rain. It can be quickly set up and will be easily stored. The Royce Junior Taupe Parasol is also a great shading option and will look fabulous in any outdoor space.
Set the scene.
Lay down your finest cutlery, tablecloths and china to create the perfect afternoon tea setting. Take it one step further and pick a theme for your special afternoon event – Mad Hatter's afternoon tea, Harry Potter-themed afternoon tea, Sherlock-themed afternoon tea… the choices are endless.
Stay warm.
As the sun is setting, you start to feel a chilly breeze and think that your gathering should end soon. Not so fast! If everyone's enjoying themselves, an afternoon tea party can quickly become a soiree. Make sure your guests are warm by adding a fire pit next to your dining table. Alternatively, you can choose to go for an outdoor dining table with a firepit. Some of our top picks include the Ambition 8 Seat Rectangular Firepit Outdoor Dining Set and the Pulse Rectangular Corner Dining Set with Firepit Table.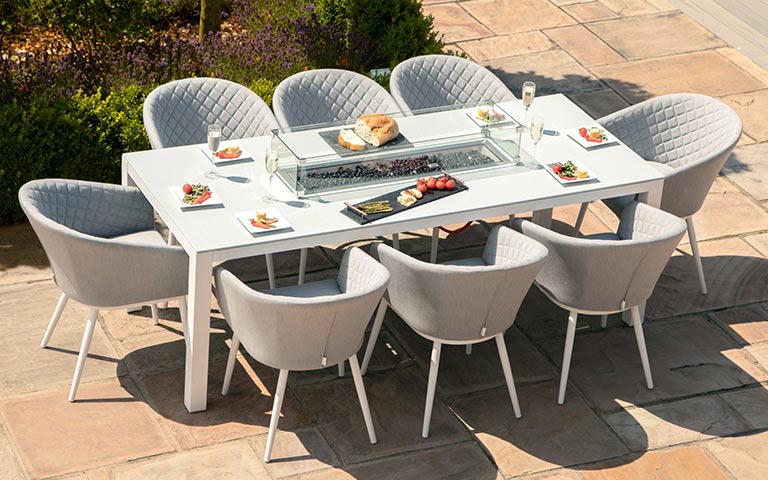 If you have any questions regarding our outdoor furniture, don't hesitate to contact our team on 01279 755294 or [email protected]. Want to try one of our garden sets? Come over to our showrooms.