Now that autumn has started, it can get quite chilly as the sun goes down. But, nothing can stop us from spending time in our gardens. If it's warm during the day, it is easy to assume that the temperature will remain high until the afternoon, at least. While this may be true, it's better to err on the side of caution.  With our luxury outdoor fire pit sets, the party doesn't have to stop when the sun goes in.  
Best Firepit Dining Sets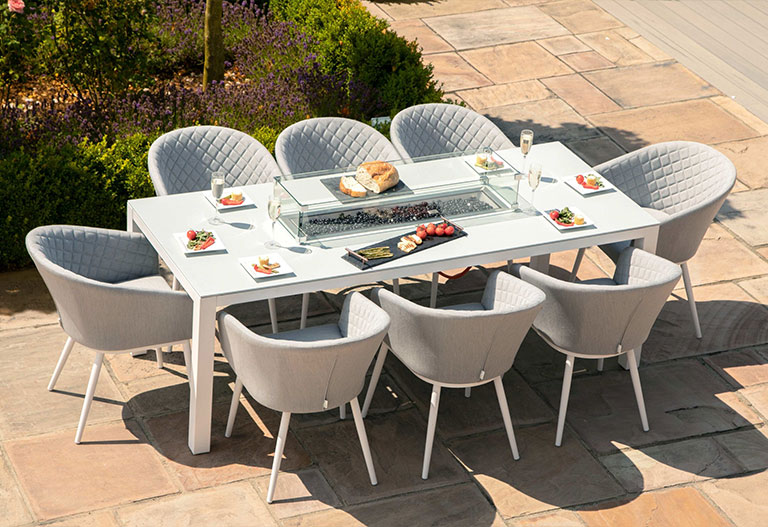 This Ambition 8 Seat Rectangular Firepit Dining Set is the epitome of style and luxury. It comes with eight elegant, quilted chairs, perfect for when the extended family comes to visit. The rectangular, spray stone table is large enough to accommodate eight meals – and drinks of course. The fire pit at the centre of the table is sure to keep you warm all through the night and comes with a grill plate and shelf. There is a glass barrier, to protect you from the naked flames, as well as a cover, for when it's not in use.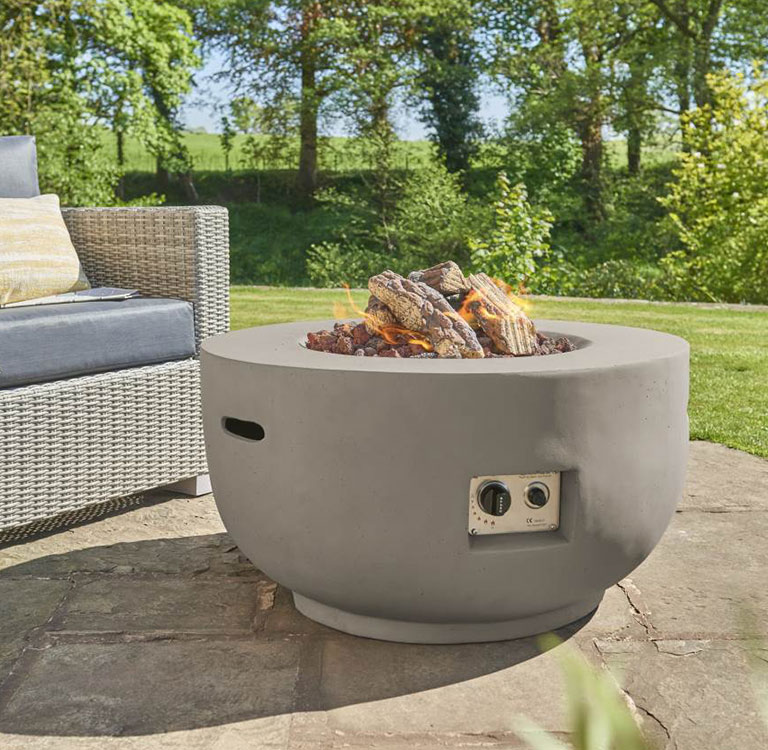 The Grey Bowl Firepit Cocoon is a contemporary gas fire pit, which is sure to serve as a garden focal point, as well as a reliable source of heat. It is manufactured using a strong, weatherproof composite, allowing it to be resistant to extreme temperatures. This eye-catching piece has a built-in control panel that allows you to alter the height of the flame. It's the perfect addition to any patio – especially if you're looking to experience extreme cosiness while relaxing on your sofa set.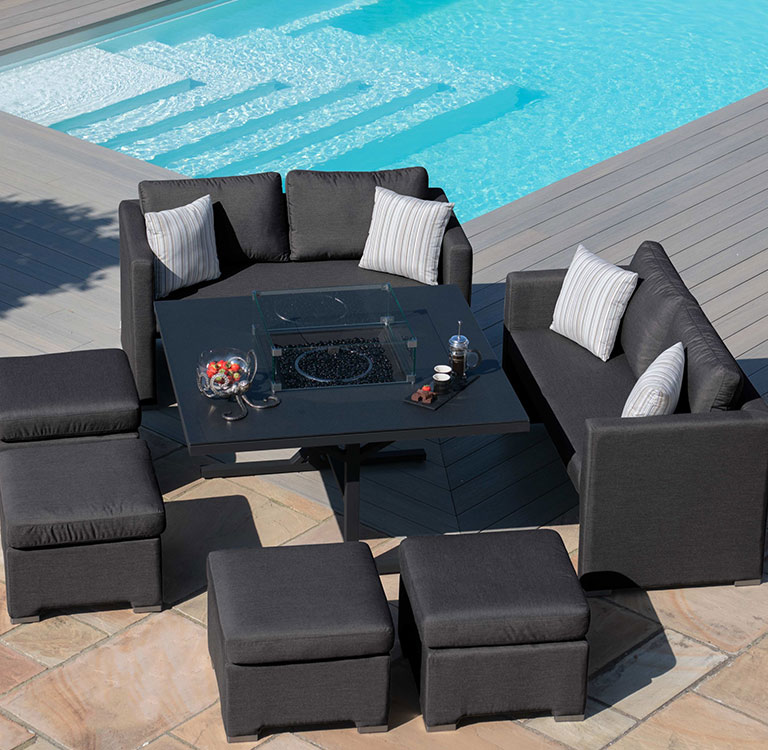 The Fuzion Cube Sofa Set with Firepit from Maze Living brings together the ultimate levels of comfort and warmth. This versatile set comes with two, sleek two-seat sofas and four footstools. The fire pit in the centre of the table is filled with lava rocks and enclosed in a glass shield for safety. It accommodates a 5kg green patio gas bottle, which can be stored underneath the table.  
Gas lanterns
We also have gas lanterns, to brighten up your garden the traditional way.  This Cosiscoop Ryder Fire Lantern is a two in one. It combines the classic style of a traditional lamp with the convenient, modern technology of gas cartridge fuel. It's great as a stylish light source and can burn for around six hours. Don't forget to buy fuel for your lantern!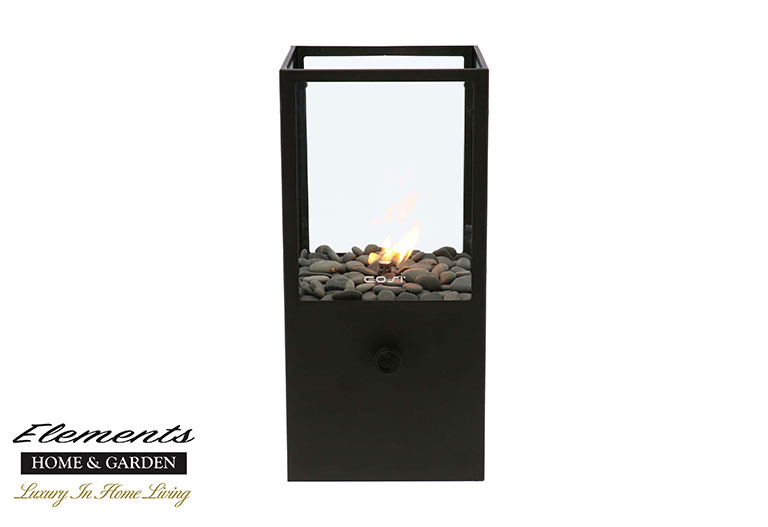 For a more contemporary look, try this Cosidome High Black Fire Lantern. Its modern, minimalistic aesthetic looks great wherever you place it. This sophisticated lamp comes with gorgeous, smooth pebbles for the base, which completes the overall look. It is easy to use and can burn for up to six hours when fitted with a 190g gas cartridge.
Visit our showrooms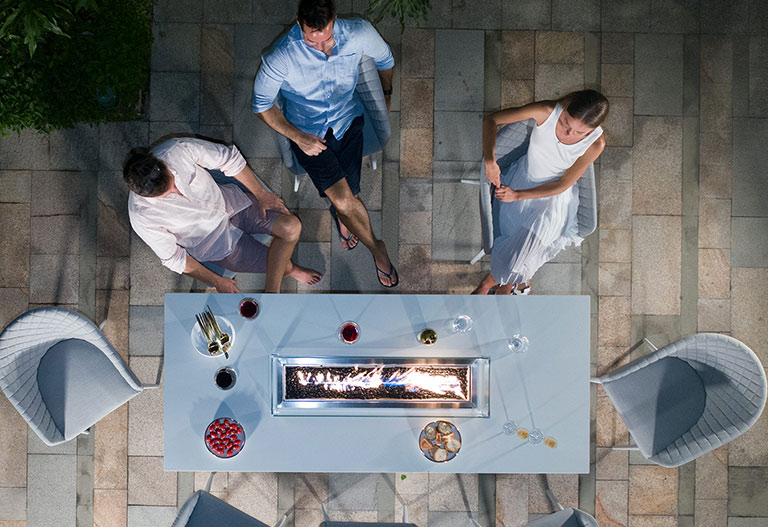 If you would like to take a closer look at any of our furniture, why not come see it in person? We have three showrooms, located in Bluewater, Bishop's Stortford and Ongar, where you can see, feel and experience our deluxe furnishings for yourself.
Elements Home and Garden is a leading supplier of luxury sofa sets, hanging chairs, sun loungers, daybeds and gazebos for sale in Essex. If you have any questions regarding our products, feel free to get in touch. We can be easily reached at [email protected] or on 01279 755294.