Sale!
Pulse Rectangular Corner Dining Set with Fire Pit Table
Set Includes:
x1- Fabric Corner Group
x1- Rising Dining Table
x1- Fabric Bench
x1- Fabric Footstool
x1- Spray Stone Effect Inlay
Dimensions: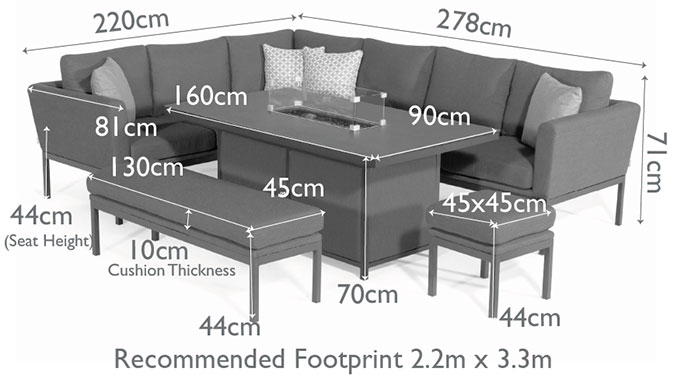 About this product
Description
The Pulse Rectangular Corner Dining Set with Fire Pit Table is the perfect way to combine relaxation with comfortable dining, with the versatility to easily swap from an afternoon coffee table to long evenings, with the click of a button. The corner sofa style seats allow you to make the most of the space in your garden, and the large table means there is plenty of room for the largest of feasts, the set also includes stools so that you can feed the entire family in comfort. All of our Fire Pit systems are CE registered and have a BTU of 50,000 (British Thermal Unit is a unit that measures the heat generated by the burner). On average, depending on the setting used, our Fire Pits will produce approximately 6-7 hours use for a 7KG gas bottle. We recommend using a propane gas bottle, which can be stored underneath the table. Please note the ice bucket feature is not included with this product. We provide a Spray Stone inlay which covers the Fire Pit when not in use.
Unique Features:
– Leave outside 365 days a year
– Unique quick dry foam
– UV resistant
– Breathable & mould resistant
– Water & stain resistant,
– High strength aluminium frame
– Easy care and low maintenance
Even in the harshest climates, our outdoor fabric range provides years of care free service with fabric that truly stands the test of time. Truly guaranteed against the elements, our furniture can be left outside all year round and can be simply cleaned with warm soapy water.
We use an advanced high-performance foam that is designed specifically for outdoor cushions and furniture. The porous open-cell structure allows water to drain rapidly and fresh air to circulate freely. After a heavy downpour and in good weather conditions, the furniture is ready to use within the hour.
Cleaning:
Cleaning our outdoor fabric range is a breeze thanks to the special fabrics and maintenance free aluminium frames. For minor spills simply use warm water and a sponge to clean the surface of the furniture. For more stubborn stains, or stains that have been left to dry, consider using a mild soap or fabric cleaner in a bucket of warm water. We recommend using a soft bristle brush to work the dirt loose.